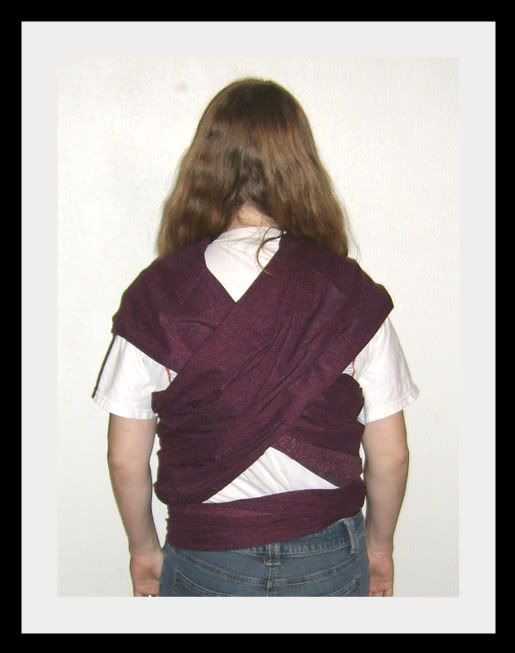 The Wrap Child Carrier is a unique way to carry your child. The Wrap uses your entire back, as well as your shoulders, to carry the weight of your baby.   Other carriers have narrow straps that may dig into your shoulders or a single strap that goes across one shoulder potentially causing back pain.  The Wrap is a wide piece of fabric that is wrapped over both shoulders--no more aching backs or tired arms!  There are no rings, buckles, snaps or other fasteners to get in the way.  It is easy to adjust the fit of your Wrap by varying how tightly you wrap yourself and your baby.

The Wrap Child Carrier is soothing to your baby--your baby finds comfort in the warmth of your body, and sound of your heartbeat.  The style of the wrap insures your baby is uniquely close, while providing ultimate comfort and support.  Now your baby can be kept close and happy for as long as he or she desires.  Wraps are ideal for premiees to children up to 35 pounds!  They are long enough to adapt to your growing baby.
 
There are many ways to wear your Wrap. You can wear your baby facing you, facing the world, sideways or on your back.  See wearing instructions HERE.  When not being used as a carrier, the Wrap can be used as many other things as well, such as a blanket, pillow or anything else that comes to mind.
The Wrap Child Carrier can be machine washed and dried.
Now you can finally have both hands free and know your baby is safe and secure!
Our Wrap Child Carriers are similar to Moby Wraps and Sleepy Baby Wraps so wearing instructions for either of them will work for our carriers as well.  Here is a nice pdf of different carrying positions: http://www.mobywrap.com/InstructionForWebsite.pdf
Purchase your Wrap Child Carrier today!  To order a Wrap in a different color or size choice please Contact Us to place a custom order.